Example Usage to call "Chrome Direct Print"
If the extension is not installed, it will fallback to view the PDF.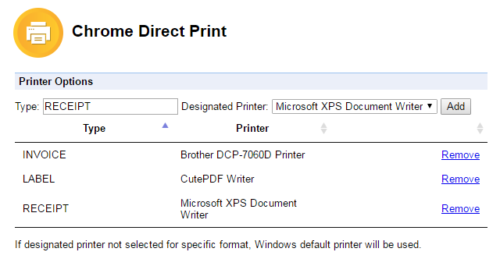 The most challenging (and missing) part of Web-based applications (especially internal systems) is printing.
Browsers do not allow silent printing and users demand it heavily.
"Chrome Direct Print" bridge the gap between Printer and Web Apps.
** Currently only support Windows and PDF only **
Source code and technical explanation coming soon.
Links:
Chrome Extension: https://chrome.google.com/webstore/detail/chrome-direct-print/fnfkcaeloalplnglklappfjfjeafakeo
Host: https://s3-ap-southeast-1.amazonaws.com/tiger-workshop-public/Chrome+Direct+Print+Setup.exe
User Manual: https://s3-ap-southeast-1.amazonaws.com/tiger-workshop-public/Chrome+Direct+Print+User+Manual.pdf
Web App Usage: https://blog.tiger-workshop.com/chrome-direct-print-web-app-usage/