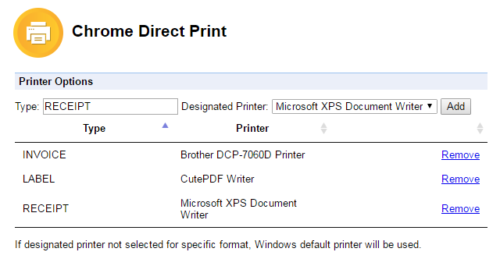 The most challenging (and missing) part of Web-based applications (especially internal systems) is printing.
Browsers do not allow silent printing and users demand it heavily.
"Chrome Direct Print" bridge the gap between Printer and Web Apps.
** Proof-of-concept stage: Currently only support Windows, Chrome and PDF only **
Source code and technical explanation coming soon.
This project is no longer in active development.
And replaced by "WebApp Hardware Bridge",
Which is next generation solution which is compatible with any modern browsers, much faster support serial port access, and receipt printers.
Links:
Chrome Extension: https://chrome.google.com/webstore/detail/chrome-direct-print/fnfkcaeloalplnglklappfjfjeafakeo
Host: https://s3-ap-southeast-1.amazonaws.com/tiger-workshop-public/Chrome+Direct+Print+Setup.exe
User Manual: https://s3-ap-southeast-1.amazonaws.com/tiger-workshop-public/Chrome+Direct+Print+User+Manual.pdf
Web App Usage: https://blog.tiger-workshop.com/chrome-direct-print-web-app-usage/